The Wibbly Wobbly Timey Wimey Podcast is a fortnightly, seasonal, podcast where hosts Talia Franks and Lucia Kelly break down Doctor Who one episode at a time. Listen as they get into the nitty gritty of plot and character arcs, deconstructing how the stories of Doctor Who work and unpacking the series through their unique and critical lenses. We cover every episode — starting with series one in 2005 and moving our way forward, in addition to immediate recaps of current episodes starting with FLUX.
Talia Franks
Co-Host, Executive Producer & Social Media Manager
Talia is an avid Whovian and has been talking people's ears off about Doctor Who since they watched their first episode as a teenager in 2010. An active and critical participant in the Doctor Who, Marvel, Percy Jackson, and Harry Potter fandoms, they've written multiple articles for Black Nerds Create and Nerdist. as well as fanfiction under the username Jesmalestiel, which you can find both on Ao3 and on their fanfiction website, Jesmalestiel Tells Tales. They've also appeared on the Doctor Who podcasts Gallifrey Public Radio, Reality Bomb and Galactic Yo-Yo, the fanfiction podcast Canonically Incorrect, and the Harry Potter Podcast #WizardTeam.
In addition to co-hosting The Wibbly Wobbly Timey Wimey Podcast Talia is the host and chief officer of everything at Into the Archives, a monthly fanfiction podcast (on hiatus!)
Talia is a graduate of Brandeis University and holds a master of arts in comparative humanities, their studies focusing in the realms of language, critical race theory, fandom, and religion.
Ever the writer and poet, more about Talia and their original works can be found on their personal website, Word-for-Sense and Other Stories.
Lucia Kelly
Co-Host, Audio Engineer & Editor
In the far off days of 2006, a young English teacher taught an even younger Lucia the words "critical analysis" and she's never shut up since.
An Arts student that has studied at both Deakin University and ACU (Australian Catholic University), Lucia's studies focus primarily on the Performing Arts and Education. She is particularly interested in the relationship between fiction and reality and how they interact and influence each other, as well as feminist theory, gender and queer studies, and how emotional trauma and abuse is portrayed in film and media.
In addition to co-hosting the Wibbly Wobbly Timey Wimey Podcast, she has guested on The Afictionados, Gallifrey Public Radio, and Into the Archives. (She also has a secret new podcast project that isn't quite ready to share yet!) From the 100, Buffy the Vampire Slayer, Harry Potter, Actual Play RPGs, Anne of Green Gables, Minecraft Roleplay Servers, and yes, even Doctor Who, Lucia can pull an emotionally devastating and complex analysis out of just about anything she puts her mind to. She has been subjecting long-suffering friends and family members to rants concerning said analysis for many years now and has consequentially earned such monikers as "Professional Menace" and "Resident Queen of the Feelings Bench."
She is very excited to inflict this same distress upon a whole new host of people now that she has been given a platform to talk about one of her favourite shows, and hopes that the jokes, the accent, and the genuine analysis squished in between all the pain will be enough to allow you to forgive her.
She also has an Ao3 account, but since she has been writing since she was a wee bairn and some of it is painfully old and outdated, she performs elaborate rituals every night to ensure that you (you in particular dear listeners) never find it.
Dee
Editor
Our editor Dee prefers to keep to herself, but remains a vital part of the Wibbly Wobbly team!
Ella Watts
Ella is a queer podcast producer, director, writer and audio fiction expert. She's the co-creator of Doctor Who: Redacted for BBC Sounds with Juno Dawson, and has worked on a number of fiction and non-fiction projects. These include BBC Radio 4's Quote…Unquote and successful independent podcast Wooden Overcoats. Currently, Ella works as a Voice Director at Six to Start, the company behind the successful gaming app Zombies, Run! Ella is also a freelance producer working on a number of projects with various clients, including Audible and Crowd Network. Her aim is to shine a spotlight on the medium of audio fiction, and to make it as accessible as it can be to as many people as possible. In her sparse remaining free time, she's a Tabletop Game designer, and recently crowdfunded her first book in the genre, "Upriver, Downriver," for just over £22,000 on Kickstarter.
Nicole Hill
Nicole is an escapist, and lover of fiction in all its mediums. They are often engrossed in stories, some they create themselves. They write commentary and critique about film, television, and popular culture and have been published on Black Girls Create, Den of Geek, and Nerdist. They can be found on Twitter, opining about their current binges, exploring Doctor Who from a Black AF perspective at Black TARDIS, and blogging at Delete This When I'm Dead. Learn more about them, and find their work at niqfury.com.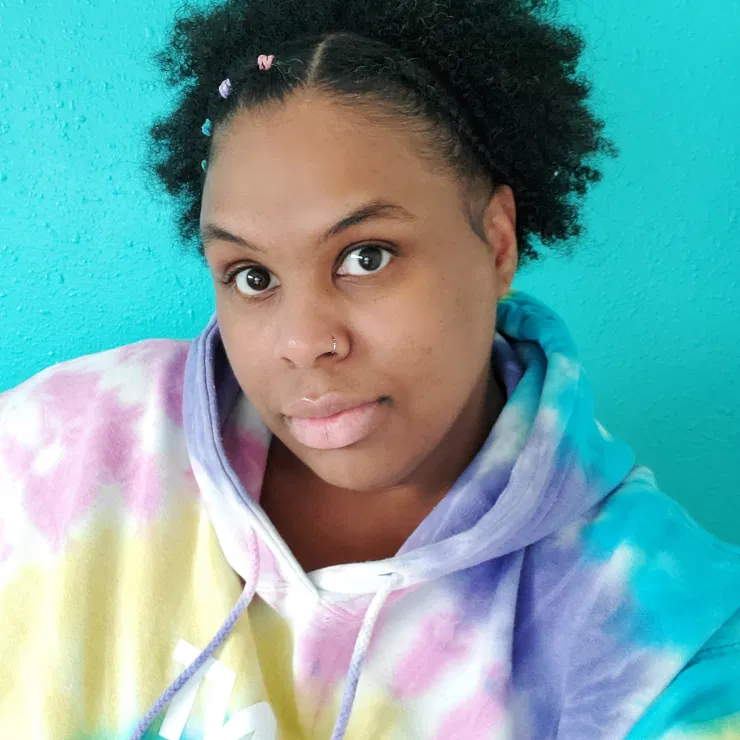 Priya D.
Priya is a long time fan of Doctor Who and loves talking about the show with anyone who will listen.
Owen Elphick
Former Editor
Owen Elphick is a writer, performer, and creator from Connecticut, currently based in the Philadelphia area. His dad introduced him to Doctor Who in the summer of 2010, and he became an instant Whovian, going on to write a full series-worth of Doctor Who screenplays that now sit in a box in his childhood bedroom (the door to which is painted to look like the outside of the TARDIS). He is afraid to reread them.
These days, he works as the Assistant Editor for The Hard Work of Hope, a weekly poetry series produced by Mass Poetry in response to the COVID-19 pandemic, and a part-time bookseller. He is the author of Thoughts & Prayers (Wilde Press, 2019), a book-length sequence of poems centered around gun violence in the United States. His work typically grapples with questions of violence, identity, mortality, masculinity, and the natural world, and has been published in The Hartford Courant, the Under Review, and Gauge, and presented at the Eugene O'Neill Center's National Theater Institute, among other places. He graduated from Emerson College with a BFA in Creative Writing. In his free time, he enjoys reading, taking long walks, discussing and listening to music, and swordfighting. You can find him on Twitter and Instagram @OwenElphick.