Doctor Who has come a long way since 2005. A large part of getting to where you are is remembering where you have been, which was one of the main reasons why Lucia and I wanted to start this podcast at what is (for many people) the beginning of their experience with Doctor Who.
Like any beginning, there were some missteps, some feeling things out, and some things that have become outdated. There were also innovations, including things that have been dropped and that we hope are brought back, such as storylines, characters, and even devices, that were used in one era and not the other.
Part of taking this large-scale approach, taking things apart piece by piece and looking at them more broadly, is that it allows us to watch the show with a measure of distance and see things, such as problematic representation or interesting re-occurring patterns, that might not have been noticeable before.
With only two episodes out and having just wrapped recording our first season, we are but a baby podcast. We are only just starting to explore what it means to share our experiences and perspectives with you in watching this show together. I am completely caught up on the show, and have read several spin-off novels and comics. Lucia stopped watching during Matt Smith's run, for reasons I'll let her get into in her own time. This, as well as the fact that neither of us are from the UK, lends us a unique perspective.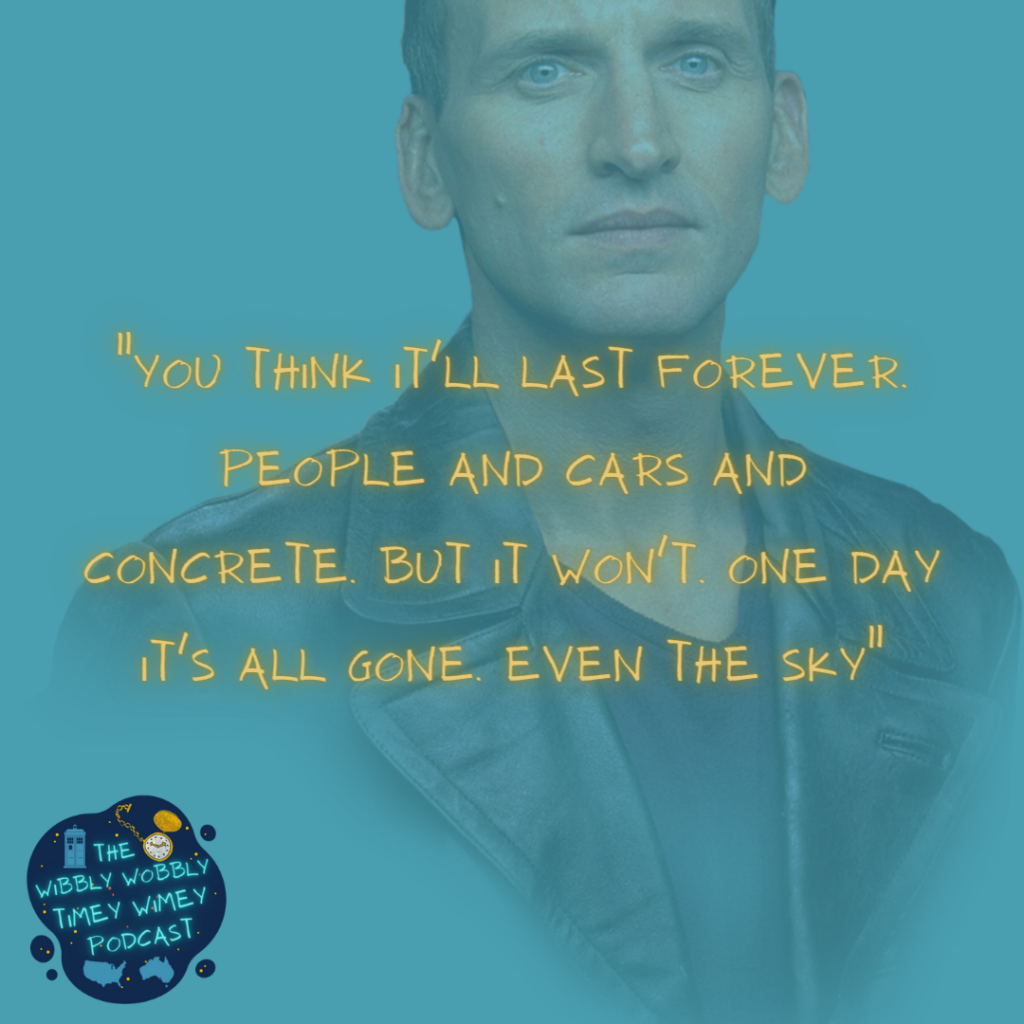 We've said that our catchphrase for this show is "We'll get there when we get there" because there is simply so much content for us to both consume and create over the next few weeks, months, and years. There is a LOT of Doctor Who to explore. It's a messy show, with an expansive and complicated lore that can feel infinite and ever-expanding in many ways.
Many episodes are full of problematic material (as well as some awful science) and you can be sure that we'll tear that to shreds; however, it can also be campy and so, so fun. We love the hell out of this show, for all that it can disappoint us, because of the highest highs that it brings along with its lowest lows.
The Eleventh Doctor said it well in Vincent and the Doctor: "Every life is a pile of good things and bad things. The good things don't always soften the bad things, but vice versa, the bad things don't always spoil the good things and make them unimportant." What sticks out in my mind, however, is that years before that ever came out of Matt Smith's mouth, Christopher Eccleston, the Ninth Doctor — my first, beloved, Doctor, said — "You think it'll last forever. People and cars and concrete. But it won't. One day it's all gone. Even the sky."
When one looks at those two quotes together, they at first sound like they are saying completely different things, but to me, they sing in harmony across the Doctor's many lives. Nine is speaking just after the world has ended. The Earth has been blown away in the year 5.5/A/26, however, he and Rose are back in the 21st century, having a small moment of peace and quiet, a moment of connection, amidst the chaos of their usually dangerous and fast-paced lives.
Yes, it is quite possible that Nine took Rose to see the End of the World as a way of trauma bonding, as we discuss in our episode, and yes, this is a serious moment for him to reflect on what (he thinks) is the permanent loss of Gallifrey; however, the important thing is that Earth is perpetually open for him to revisit at any time, any era is open to explore with a new companion. The good of the Earth does not soften the loss of Gallifrey, but the loss of Gallifrey does not spoil his time with Rose. The end of the world is coming, but that does not mean that they cannot explore all the times that come before it. Nothing lasts forever, everything has its time, and everything ends, but for the Doctor, the measure of everything is limitless.
— Talia