This post is Talia's reaction to the newest episode of Doctor Who, "Flux Chapter One: The Halloween Apocalypse" 
Doctor Who came back in all of its Wibbly Wobbly glory on Halloween and I could not be more excited. Overall my thoughts on the episode are very positive, though there are definitely things that could have been better. If you have not watched the episode yet, beware the rest of this article!
SPOILERS FOR FLUX CHAPTER ONE: THE HALLOWEEN APOCALYPSE AHEAD
My first thought about this episode is that it is all over the place in the best way. There are so many things packed into it that are dangling out and making me want to learn more, in a way that at the same time does not feel incomplete or rushed. This episode is the first of six, and the great thing about that, as Lucia and I discussed in our reaction episode, is that being the first part of act one of the story this episode is setting everything up for us in later episodes. It has come out with an absolute bang, and I am so hype for the next episode, and not just because the first episode ended with the apparent end of the universe.
So about those handcuffs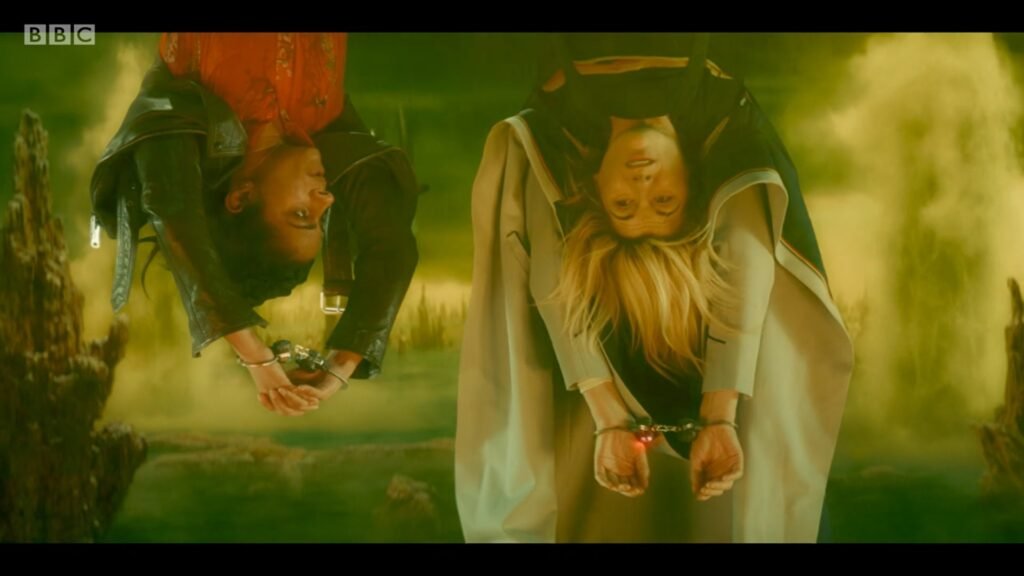 The Doctor had handcuffs in her pocket that were voice activated and the last time she used them her voice was scottish. *Puts inspector glasses on.* These handcuffs definitely had something to do with Missy. My shipper heart is adamant that this be the case and I will not have it any other way. Also, as I stated in the episode we recorded, I have firmly taken it into my headcanon that Yaz is not nineteen, but rather closer to Mandip Gill's actual age.
Speaking of Yaz…
I want to talk about how Yaz, in this episode, finally shows some of the gumption that I have really been waiting for in the past few seasons, as she and the Doctor truly get to play off of each other in ways that they could not when Ryan and Graham were also companions. I find it a shame that Yaz was not able to be a solitary companion for longer, and that we now have Dan on the TARDIS, because it is so obvious that Mandip and Jodie have such great chemistry.
I do not just mean the Thasmin vibes, though it is something that I ship wholeheartedly. But I also truly think that Yaz is confident and moves on the TARDIS in a way that speaks of experience and competence that while other companions do have sparks differently in this episode than in previous episodes I've watched recently.
The Doctor gives Yaz vague instructions that she does not quite understand but Yaz is able to go forward and execute them anyway, rescuing Dan and inhabiting a role that is almost Doctor-like in the process. Other companions, once they have travelled with the Doctor long enough, have also grown to possess a similar level of maturity in the way that they operate around the Doctor, particularly Clara and Amy, but the way that Yaz operates in sync with the Doctor to pilot the TARDIS feels distinct from past companions, as does the way that she and the Doctor fight. In earlier episodes Yaz held back, but clearly since the departure of Ryan and Graham the Doctor and Yaz have grown closer in a way that has led her to be more comfortable in challenging the Doctor.
I went into this somewhat in our reaction episode, but I think of all the previous companions Clara was on a similar trajectory in how she grew more confident around the Doctor to the point of almost trying to become him. This ultimately led to her destruction and her "death." The ways in which she challenged the Doctor feel inherently different from Yaz, however, as the structure of their relationships is very distinct. For Clara, her life was built around and dedicated to the Doctor — he was the planet she orbited around, he was the hero she constantly put her faith in, and she couldn't have a life without him. For Yaz the Doctor is an opportunity to explore and see the universe. They are friends but Yaz has not built her entire life around the Doctor. (Though I do find it interesting that she names herself as being formerly PC Yasmin Khan of Hallamshire Police. She left her job for The Doctor, which is significant.)
The biggest difference is that the Doctor and Yaz are friends and were established from the moment Yaz stepped on board as people travelling on an even playing field, for all that The Doctor knows more than her. The previous Doctors were always established authorities over their companions, even companions that challenged them and rebelled against them, as all companions often do. Thirteen is unique in that until the moment when she breaks in "The Haunting of Villa Diodati" — a moment which gives me absolute chills every time I watch it — she continues to hold up the illusion that she does not hold a different level of power over her companions.
Cos sometimes this team structure isn't flat. It's mountainous, with me at the summit in the stratosphere, alone, left to choose. Save the poet, save the universe. Watch people burn now or tomorrow. Sometimes, even I can't win. — Thirteenth Doctor, "The Haunting of Villa Diodati"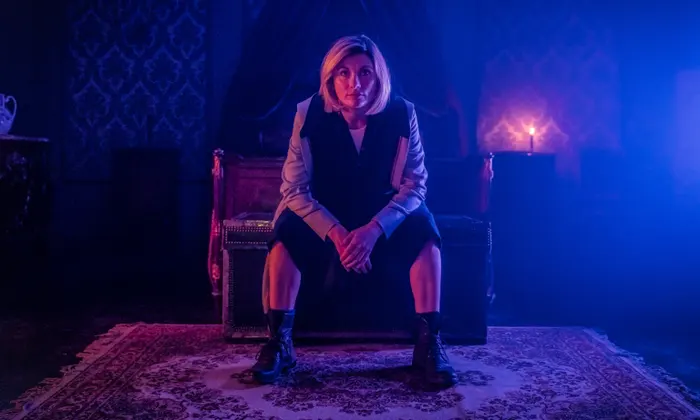 So when Yaz feels the need to finally confront the Doctor, fed up with how the Doctor continues to skirt around answering her questions and give clear answers, it's clear that Yaz feels she is doing so with a level of authority. This is not to imply that previous companions did not lack gumption or autonomy or the ability to put the Doctor in his place, because they absolutely did, every single one of them. The difference I am seeing here with Yaz is that she is persistent and inquisitive and pushes at the Doctor's buttons where I think previous companions might have given in to the idea of "the Doctor lies" and accepting that they would not know what was going on until the Doctor decided to explain it fully to them.
It is entirely possible that I will change my evaluation once we get to later episodes of Flux, and of course once Wibbly Wobbly gets through watching all of the seasons that lead up to season thirteen. I'll be particularly interested to see what I think of this when companions other than Rose are more salient in my brain because Yaz reminds me most of Martha, Amy, and Clara as a companion right now, but I don't have a full picture because I haven't done a complete series rewatch in a few years.
One last thing
There are about half a dozen more topics I could go over in relation to this episode, but something I definitely want to make sure doesn't get overlooked is the fact that Dan Lewis feels so unnecessary. Despite my best efforts I do like him, he's a sweet guy and relatively funny, but it annoys me that this show is so dependent on having a white man on the TARDIS. Seasons 1-5, and 8-9 only had one primary companion. There's no reason for there to be a secondary companion after Yaz for this season. It is so upsetting to my spirit, when we are finally getting all of this development for Yaz in this one episode, which feels like more character engagement from her than in any previous episode even with how chaotic this was, only for her to now have to share her time with the Doctor? And its not just about the Thasmin of it all, its about the fact that there is that tension with how the Doctor is hiding things, how Yaz is pulling it out of her, and the idea that there is going to be another person there acting as an obstacle is frustrating. But! There are still five episodes left, so I am hopeful that he will not be too obtrusive.
I lied one more thing
THE DIVISION IS BACK AND THEY HAD THE SAME GUNS AS THE RUTH DOCTOR DOES THAT MEAN THAT RUTH DOCTOR WAS ON THE RUN FROM THE DIVISION AND THAT SHE MIGHT BE COMING BACK??? *STARES INTENTLY*
I'm just saying, it would be really cool if this was a multi-Doctor story with Jo Martin as the Fugitive Doctor. We have not gotten to see nearly enough of her and I'd love to see more of her storyline included.
'Til next time folks!
-Talia